Tandem Chillers Inc. designs and manufactures *AHRI Certified air cooled chillers that are easy to install, easy to repair and will give you significant savings. The air cooled chiller is compact in size allowing for easy installation in places where space is severely limited.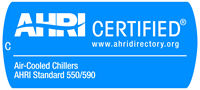 Because of its modularity, this chiller can be removed for service in a matter of hours without interrupting the rest of the system. The unique split electrical control panel means that you can operate one compressor while you fix the other one. This saves you a lot of money on purchasing extra modular chillers for stand-by. This chiller provides long term reliability, high operating efficiencies, is easy to operate and offers the best protection and preventive maintenance program on the market.
Main Features
Models available: VX010, 15, 20, 25, 30, 35 and 60 with dual High Efficiency Scroll compressors.
Freon 410A.
Compact Size.
Easily Removed For Service.
Outstanding Reliability.
Unsurpassed Operating Efficiencies.
Ease Of Operation.
Dual refrigeration circuits.
Extraordinary Safety Protection.
Satin coated sheetmetal powder coated and baked.
Dual Circuit Stainless Steel Brazed Plate Evaporators.
High Efficiency – Low Freon volume all aluminum "Micro Channel" condensers.
NEMA / EEMAC Type 4/12 Control Panel.
Designed in compliance with CAN/CSA C22.2 No. 236-11 and UL 1995 4th edition 2005 Heating and Cooling Equipment.
Evaporator certified to UL 207 7th edition and C22.2 no. 140.3-M1987.
AHRI performance certified to AHRI 550/590.
Applications for Air Cooled Chillers
If you do not have access to building supply water (cooling tower water), and dry fluid coolers are not an option, we offer high efficiency air cooled chillers to be used with our high efficiency air cooled condensers. These condensers can be located on the roof or ground and can be designed to operate in ambients up to 105° F and down to –20° F during the winter months.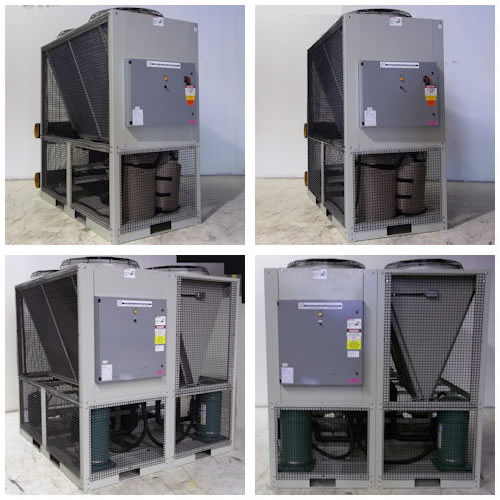 We also offer high heat remote condenser air cooled chillers that feature either Copeland "SCROLL" compressors with dual refrigeration circuits or single Copeland "SCREW" compressor with single refrigeration circuit, stainless steel copper braze plate evaporators, our exclusive intelligent chiller control system, and a NEMA 4 control panel.