Tandem Chillers manufactures "Service-in-Place" modular chillers and chilling systems for the HVAC and Air Conditioning industries – where it is possible to service the units and replace individual components without shutting down the balance of the system.
Come visit us at the 2024 AHR Expo in Chicago January 22– 24 in booth #N2063. Meet our staff and find out about the latest innovations at Tandem Chillers and the customized solutions for all your chilling needs.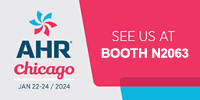 We look forward to seeing you there!
Contact us Toll Free: 1.877.513.8330
or by Email: [email protected]